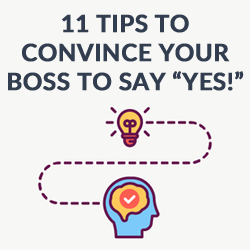 What if you could actually convince your boss?
I know…
From playing the game of politics to slow decision-making to lack of time, we often face many obstacles at work. ?
It can be hard.
So here are 11 effective tips to persuade your boss to make change happen.
People who've used these tips got their boss to implement new ideas and made an impact at work. This is a guide to help you make innovation happen too.
Warning: you are NOT going to find anything about being a bootlicker (dull) or working hard (boring) here.