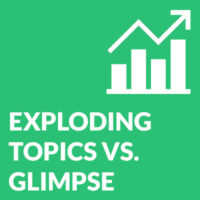 In this article, I want to compare two leading trend-spotting websites:
Let me try to help you choose between those two tools that you can use to identify emerging trends.
What are emerging trends websites?
For me, trend-spotting websites are a great tool when you're trying to identify new opportunities for your business.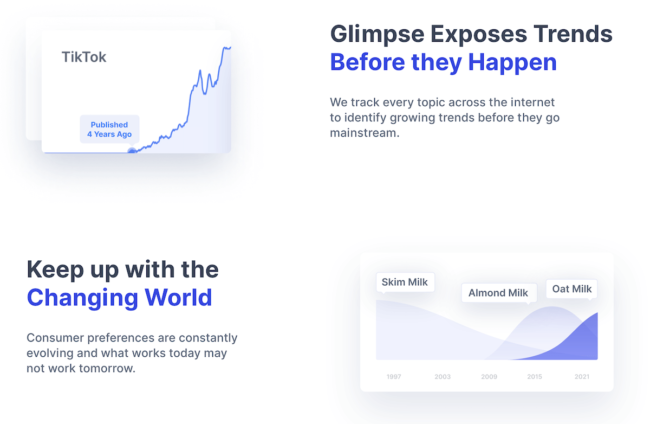 They give you access to a huge amount of insight for a very affordable price.
Here's how they work:
They collect and analyse data such as consumer behaviour, search queries, and social media interactions.
This helps them to uncover trends before they get under anyone's radar.
As a result, they provide curated lists or in-depth analysis of emerging trends.
Some emerging trends focus on specific industries (e.g. consumer goods, healthcare) and others cover a broader range of topics.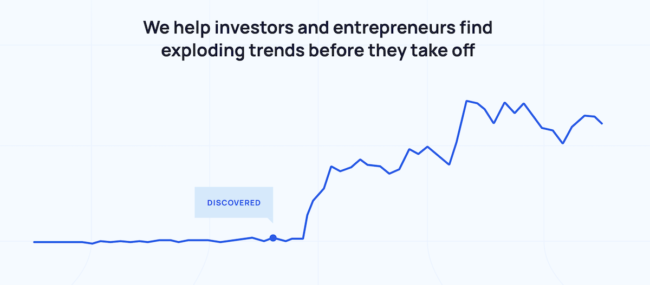 Those websites are commonly used by entrepreneurs and investors. They use them to stay ahead of the curve, spot new opportunities, and capitalize on emerging trends in their industries.
Read more: Have a read at my list of the 7 best trend-spotting websites to help you find new opportunities.
What's Exploding Topics?
Exploding Topics is a trend-spotting tool that detects trending topics across various niches and industries.
I see Exploding Topics as Google Keyword Planner, but turbocharged.
At the heart, the tool uses data from search engines. For each trending topic, you can see a graph with historical search volume and growth over the past 3-5 years.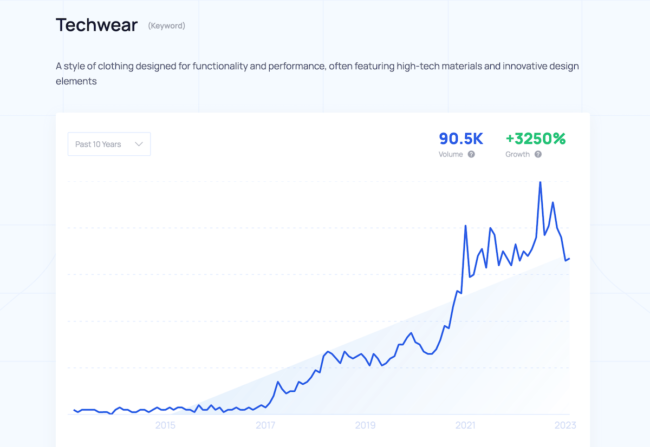 But the team says that they also rely on other sources of data, including online conversations, mentions, podcasts, and Amazon keywords.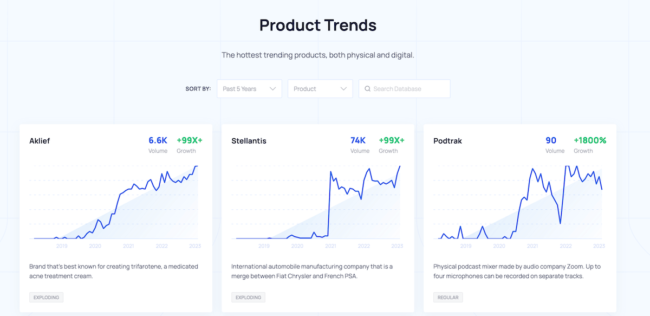 What I also like is the Exploding Topics free newsletter. Every week, the team send you a shortlist of trending topics. (You can subscribe here.) All of this, for free.
In summary:
One-liner: We surface rapidly growing topics before they take off
Pricing: $39/month
Website: https://explodingtopics.com/
What's Glimpse?
Glimpse (also known as "Meet Glimpse") is a data analytics tool gives you a view of rapidly growing trends.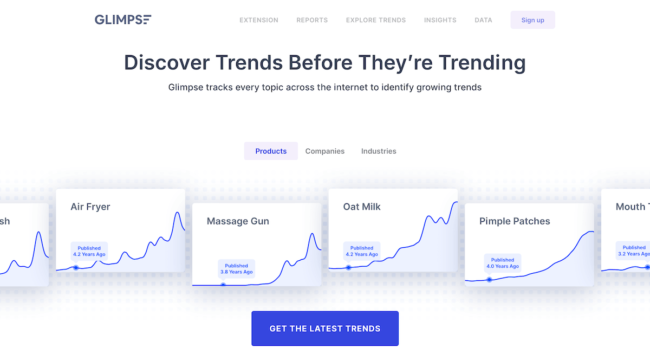 You can filter those trends by Products, Companies, or Industries.
Their tool is an absolute game-changer. It allows you to save so much time, and gives you insight you couldn't have got with free tools like Google Trends or Google Keyword Planner.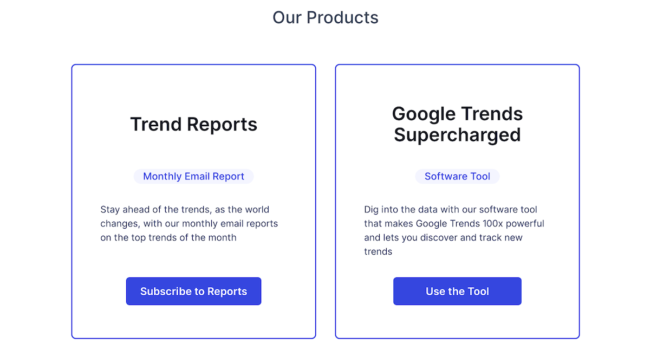 For that, they have two products:
Trend reports based on hundreds of millions of consumer behaviour signals (from social networks such a Reddit or Twitter) to surface important and fast-growing trends

Google Trends Supercharged, a Chrome extension that makes to Google Trends 100x powerful by adding enriched data and insights
Glimpse prides itself for surfacing things you haven't heard of before.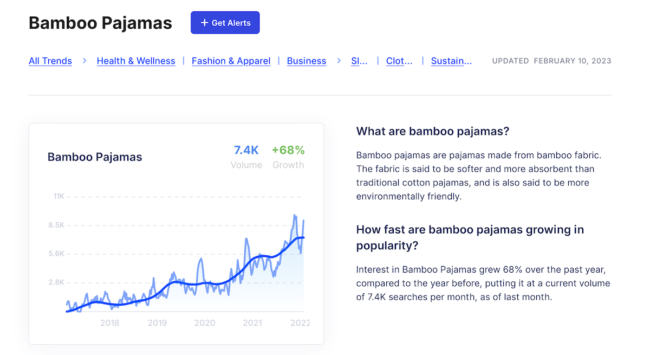 And I can say, it's seriously impressive stuff.
Also, in recent updates, the team added new features like instant alerts and more data sources. The smarter tech behind the scenes helps with early identification of trends and it increases certainty around whether a trend will continue to rise.
In summary:
One-liner: Stay ahead of the trends as the world changes
Pricing: $29/month
Website: https://meetglimpse.com/
Exploding Topic vs. Glimpse
Exploding Topics and Glimpse have some similarities but also some key differences:
Exploding Topics:
Focuses on detecting trending topics using search volume.
Provides a constantly updated list of trending topics, including related exploding trends and growth values.
Offers a free weekly newsletter with expert insights and analysis on trending topics.
Glimpse:
Analyses consumer behaviour signals to surface important and fast-growing trends that are under the radar.
Provides a monthly report that covers trends with long-term momentum.
Gives you flexibility to explore the data by using their Chrome extension to get additional insight from Google Trends
Offers instant alerts for rapidly growing trends that have taken off in a matter of weeks.
Has increased data source coverage across its focus categories, including social, shopping, media, entertainment, search, and purchases.
Which to choose?
Exploding Topics is the easiest tool to use. It's a large database of trending topics. So, you just need to browse and enjoy!
Using Glimpse is more hands-on. But! It will give you so much more insight. If you're after nuances or untapped opportunities, I'd say that Glimpse is the tool that you should use.
Subscribe here:
Subscribe to Glimpse | Subscribe to Exploding Topics
Going deeper into uncovering trends and opportunities
It was just a quick dive into two of the best trend-spotting websites.
As we're reaching the end of this article, I'd like to tell you about my latest book: The Opportunity Lenses.
I wrote the book to share all my insights on how you can identify and choose the big opportunities that you can go after to grow your business or your next product.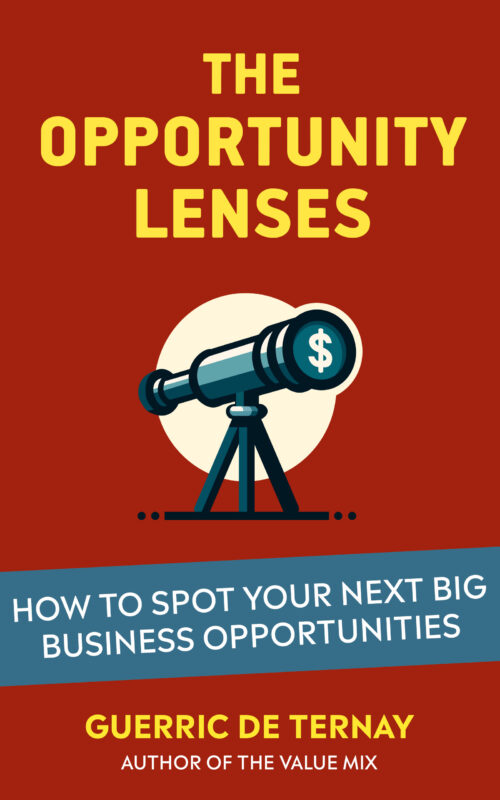 You'll find good tools and tips to help you find new opportunities. So, have a look at The Opportunity Lenses.