A decisive challenge when you sell SaaS solutions is to generate leads. Your sales team need as many qualified leads as possible. They don't want to waste their time with visitors who will never buy. Designing the right pricing strategy can have a large impact on that.
Pricing Strategy for SaaS: A Smarter Alternative to Freemium?
Freemium is a popular pricing strategy to attract potential customers. Users can start using your product for free with some limitation. The company then expects that the 'freemium' customers will use the product more and more and start buying a premium plan.
Freemium Pricing Strategy: The Evernote Case
Freemium is the pricing strategy that SaaS companies like Evernote and Dropbox have chosen.
In the case of Evernote, its engagement strategy is to maintain a high-quality free product. Phil Libin summarized the freemium pricing strategy in one sentence.
"The easiest way to get 1 million people paying is to get 1 billion people using."
As a benchmark, Evernote's conversion rate to premium in 2010 was 5.6% after two years of using the product. Identifying the real conversion rate requires to run a cohort analysis. The more someone uses the product the more likely they are to become premium users.

You understand now that a freemium pricing strategy is a number game that requires patience and great customer support.
Smarter Than Freemium?
The main problem of offering a freemium plan is that you attract users that will never pay. They use your resources and increase your cost. But they will generate any revenue.
Making pay a small price could be a solution. I recently came across a rival strategy: almost-free plan. Zendesk, a customer service platform, offers a plan for $1/month—after a 30-day free trial.
By the way, if you want to learn more about SaaS and Zendesk, pick Startupland by Zendesk CEO's Mikkel Svane.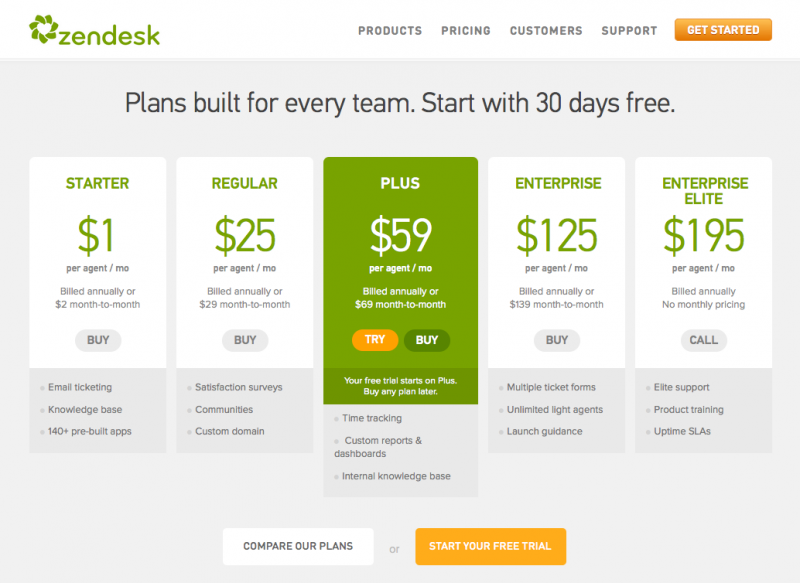 Filtering The Users Who Will Never Switch to Premium Plans
Zendesk's strategy seems a good idea. By making small companies pay only 1$/month, it filters all the users that will never pay for the service. The Zendesk's pricing strategy is likely to generate leads that are more qualified. Users who will never pay are de facto eliminated. And users, who are going to grow and who will need a more expensive plan in the future, can already use Zendesk.
Define Your Buyer Personas from the Beginning
Zendesk is useful for any tech company that needs to provide customer support, especially e-commerce websites and SaaS companies. Tech ventures often start from scratch without much capital. Since lean companies focus on validating the product-market fit, they do not generate cash. They will be upset to pay $25/month. But they can still start using Zendesk paying $1/month.
Zendesk's pricing strategy demonstrate a perfect understanding of its adoption cycle. The product marketing team has identified 5 types of buyer personas. Each plan depends on the buyer personas' willingness to pay.
That's a bet on the future. Once these cheap customers start growing, they will need more features. They will switch to a more premium plan and Zendesk increase its Monthly Recurring Revenue.
In this case, a salesperson can even sell a more premium plan with a higher success rate. 'Starter' users are hooked. They are already paying. creates a deep relationship with these users who understand that Zendesk was here since the beginning.
A Pricing Strategy Consistent with its Buyer Personas
Zendesk's pricing strategy seems slick. It is consistent with its buyer personas: small/medium online businesses and enterpries.
Adding the 'starter plan' to its pricing strategy shows that Zendesk's product marketing team is aware of issues that small tech businesses have at the beginning. The team's jobs are to focus on understanding customer needs, segmenting the market and developing pricing plans. It seems that they are now getting all of them right.
BtoB is not BtoC
I am not advocating that a starter plan at $1/month is always better than a freemium pricing strategy. In this case, since Zendesk only targets businesses and enterprises—what individual would start using a customer support solution?—it seems relevant to ask them to pay a small fee.
I doubt that Dropbox or Evernote would ever switch to such a pricing strategy. The freemium strategy is justified because Dropbox and Evernote target also—and mostly—individuals. They are competing with similar offers to attract as many freemium users as possible. They exepect that at some point these users will need more features and switch to a premium plan.
Learning from Previous Mistakes
In 2010, Zendesk went through a difficult moment. The product marketing team decided to raise the price. That's something that sounded fair from Zendesk's perspective, since the price had remained unchanged for a while and Zendesk had improved a lot.
Problem: The product marketing team did not convey the message correctly. Zendesk's customers complained about the new price because their perceived value did not change. What they were paying for before and after the price changed was the same SaaS product.
Many customers complained publicly, including in the media. You can imagine how stressful was this period for Zendesk. That's a trauma that remains alive for while in a company's culture. That's why it's particularly interesting to see how—from an external perspective—Zendesk seems to have designed a clever pricing strategy for its SaaS product. Zendesk has learnt a lot since its pricing fiasco in 2010.
Here is what Zendesk CEO's Mikkel Svane says about the pricing fiasco in Startupland:
"You don't raise your price for an existing product for an existing customers. That's the relationship of a subscription service. Things get cheaper over time as you democratize the product. SaaS companies must show ingenuity to prove the value of new features and incentivize their customers to upgrade or buy add-ons to their products in a way that feels natural and organic."
Pricing Strategy as Part of a Well-rounded Marketing Strategy
The right pricing strategy needs to fit in the overall company's marketing strategy. It seems to be the case at Zendesk.
Bill Macaitis, the former CMO of Zendesk, outlined the 9 SaaS marketing disciplines that led to the current success of Zendesk. Pricing and segmenting are one of these 9 elements that also include: operations and analytics, website conversion, customer lifecycle, comms, content, paid…
Take Away
Think first about who are your target customers. Then define a pricing strategy that can optimize your leads and limit your cost.
Designing a Pricing Strategy for SaaS: Why You Can't Overlook Value Metrics
The right pricing strategy boosts profits more than an increase in volume will. Price is the most important profits lever. And it's one the most difficult elements of your marketing mix to test properly.
Unlike the retail industry that charges per item, SaaS allows lots of creativity in the way pricing strategies are designed. That does not make the life of product managers easier. But once they have figured out the sweet spot, it's almost easy money.
As I am currently working on designing a pricing strategy for a SaaS product, I wanted to explore some ideas on how to set the right price.
Value Metrics Matter When You Design Pricing Strategy for a SaaS Product
What is difficult to test is not the price—the numbers— but the value metrics. Should you charge based on the number of users, of storage capacity (e.g. Dropbox) or any other value metrics?
Let's take Basecamp, a project management software, as an example. Unlike most of its competitors, who charge per user, Basecamp charges per project. It means that any account can allow access to unlimited users. Teams are limited on the number of active projects they can work on.

This is not so crazy. A team of 3 users or a team of 30 users will probably not make more out of Basecamp, if they both only work on less than 10 active projects. Now, if the team of 3 works on 30 projects at the same time, it sounds fair to charge them more.
Yes. The best pricing strategy for SaaS takes into account what value using your product create for your customers.
Is what Basecamp does the right way to set the price? It's hard to tell. Changing the value metric is different from changing numbers.
A shift in the pricing model is complicated. You cannot run a classic A/B test. Customers will eventually compare with each other. It also means that your support team needs to track the initial advertised model.
Pricing is so intrinsically tight  to your marketing that if you claim a specific pricing strategy, it makes it very difficult to test an alternative pricing strategy.
It might be possible when you just recently launched trying to figure things out. Once your product is under the radar of thousands of monthly visitors, changing your pricing strategy requires more explanation than a mere: 'We are just testing.'
Your Value Metrics Might Create Friction for your SaaS Product
The value metrics that you chose to design your different plans have an impact on how people use your SaaS product.
Your value metrics can create friction and limit usage. If you charge based on projects like Basecamp, your customers are going to limit the number of projects they create. Users might end up avoiding doing the things that your product has been designed for.
In some other cases, your customers can try to circumvent your pricing strategy. If you charge based on users, your customers are going to keep the number of users very low. An entire team might even share the same account.
What the Pricing of Legal Research Databases Can Teach You
This reminds me what happens law firms. Legal data base like LexisNexis are expensive. Cf this plan for getting an access to a legal database. The first plan is $6000+ per year.

To limit how much they have to pay, law firms share the account details across the whole company. So LexisNexis started limiting the ability to connect simultaneously on the same account.
Yes. Customers and suppliers are playing a funny game. But this is not the end of the story.
We are talking about lawyers—as a former law school student, I know that these guys are far from being stupid. Some law firms started to allow access to the database only in the company's library. You want to do some legal research? Do it the old way. Go to the library.
The result is sad for LexisNexis. A law firm of 50 lawyers can easily set up only 5 desks having access to the legal database. LexisNexis will miss the opportunity to earn roughly $60,000/year.
Instead LexisNexis could chose some other value metrics like number of research. But that's difficult to explain to your customers. ;)
Keep in mind that LexisNexis serves both enterprises and SMBs. Price sensitivity is different between enterprises and SMBs. So not all customers react in the same way to value metrics.
Pay for Your Product: Be Your Own Customer
Making sure that you pay for the product you're building can be very enlightening.
Yes. Behaving like one of your customers is helpful.
It is tempting to use your own product for free. "Why should you pay for it? You work on it every single day." I agree. But there is nothing better than going through the same experience than your customers.
First thing that you will notice is the value creation aspect. Does what you do with the product justify the price? It is easy to set a price when others pays. What about when you have to pay?
There is something meaningful in putting in your credit card details. Because you're also paying for it, you pay more attention to your pricing strategy. You understand how your customers can feel about your price.