Since 2008, an increasing number of technology ventures have been revolutionising the financial industry.
This is what I called in 2013 the "FinTech Revolution".
In this article, I focus on the reasons for this revolution from a strategy and innovation perspective.
I also listed some of the best FinTech ideas. These are great examples of disruptive ideas that have now become significant providers of financial services.
A Change of Paradigm
The internet has allowed an innovative jump to occur in many industries. Customers have now an easy, very affordable access to books (e.g. Amazon), furniture (Made.com), TV (Netflix), education (Coursera.org), media (YouTube)…
It is now the turn for the financial industry to be disrupted, all over the world. (If you're interested in disruptive innovation, read this case study about disruption in the robot industry.)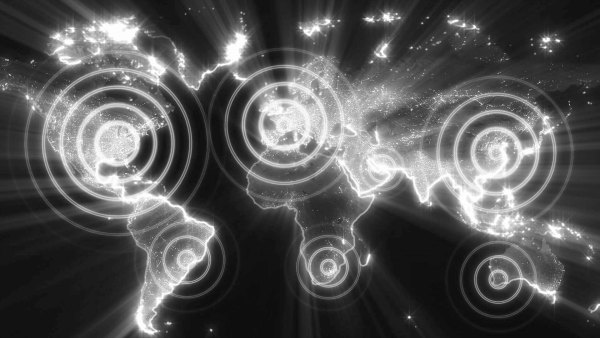 Until the end 90s, being a consumer was expensive, time consuming, and sometimes impossible. The price of education was prohibitive. You did not have easy access to many books. Watching movies and series was a costly hobby.
But the internet has changed the paradigm of how we consume things: Buying rare or foreign books is easy; you can get access to the content published by top universities for free; and watching series 24/7 only cost you $9/month.
Things have changed for financial services too.
The financial industry is in the middle of the same revolution. The volume of business that tech ventures have taken away from traditional banks has significantly increased. And the trend will continue.
What's more, customers of fintech companies do hesitate to tell their friends. They all praise the better user experience. And as you know, word of mouth is the best marketing-communication tool.
What Does "FinTech" Mean?
FinTech stands for Financial Technology. Fintech companies are businesses that leverage new technology to create new and better financial services both in B2C and B2B.
'Fintech' is an umbrella term. It refers to companies of all kind. These include companies that operate in insurance, payment, asset management…
But fintech companies have one thing in common:
A niche strategy. These tech ventures are taking over small pieces of the financial industry, one step at a time. Eating slowly what your bank, your financial advisor, and your mutual fund do.
From loans to transfer of money to investment, the FinTech Revolution is eating finance.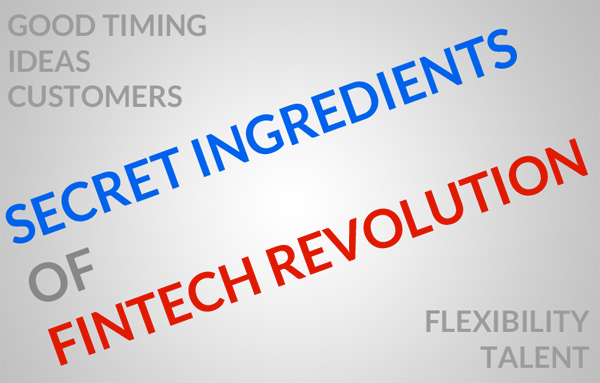 The Rise of the FinTech Revolution
People working in financial services thought that complex laws and heavy regulations could prevent the internet from eating their businesses. Right after the Dot-com Bubble bust, there were only a few of startups growing in the finance industry.
Banks weren't worried. So they took their time to embrace the change of paradigm that the internet had brought.
Traditional institutions did not anticipate that the mix of good timing, fintech ideas, and new technology, as well as more demanding customers, agile strategies, and talent will lead to the current FinTech Revolution.
And the same process of disruption is happening in the asset management sector.
1. Good Timing for Fintech
The crisis of 2008 defined a new era for finance. It emphasized the inefficiency of the banking system. The tech industry did not need more to understand that the financial world was broken. This means enormous opportunities for the startups that could improve the elements of the whole system.
Tech founders began to imagine how to disrupt the financial services traditional banks provide. They also took advantage from a positive ecosystem that made it easier to start a company.
2. Opportunities and Ideas in Fintech
Disruptive innovations were easy to find.
Customers have had many reasons to lose trust in their banks: high cost, slowness, lack of transparency, lack of good UX, no great mobile apps, bad customer service, and, above all, a major crisis.
3. New Kinds of Customers for Fintech Businesses

A demographic shift emphasises new expectations from financial services. The new customers don't want to comply with the existing rules. They want to manage their money on their own term.
In B2C, digital natives prefer to manage their money directly. They don't want to go to a branch for that. This digitisation of financial services also impacts the marketing strategy of financial services. It makes it more accessible, quicker and and easier to compare offers.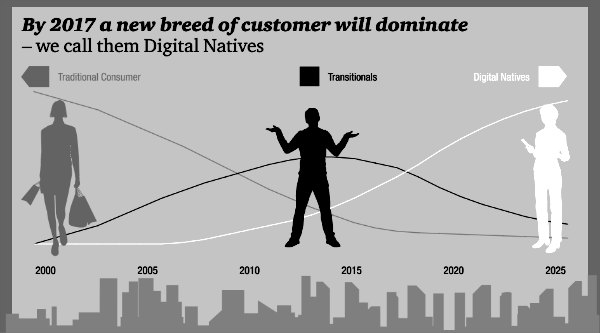 In B2B, financial services have to catch up too. Since B2C customers have higher expectations, there's no reason why they won't have the same expectations at work. Besides, many businesses now want the tools to serve their own customers better and faster.
4. Agility of Fintech
Startups have benefited from a supportive business ecosystem. It has never been cheaper to start a company. The biggest investment for these tech companies isn't technology anymore. It's talent.
Agility is key. Fintech startups are attacking an ageing industry with more agile companies. They do not have the same cost structure than financial institutions. And they don't have to fight against technical debt, bureaucracy, and inertia.
5. Talented Designers and Software Engineers Want to Work in Fintech
Tech companies have been highly popular among talented young people—designers, software engineers, and product managers.
They offer better a place to work. Fintech entrepreneurs open appealing alternatives to the boring corporate world: "Would you prefer to work in a highly hierarchical company or for a growing, exciting fintech?".
Facing competition, traditional financial institutions have to react. They have to cope with two problems: they noticed the FinTech Revolution too late and they are "too big to change".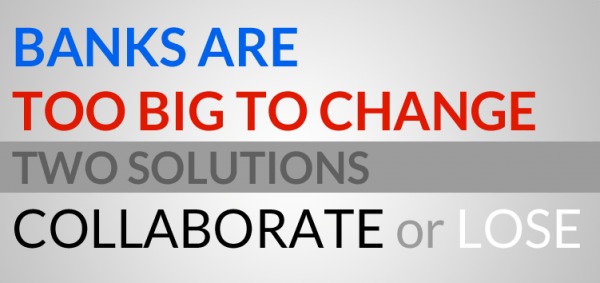 Slow Reaction of  Traditional Financial Institutions: Too Big to Change
Until a few years ago, fintech ventures weren't considered as real competition.
Banks ignored the phenomenon. Fintech companies weren't under their radars. They were too small.
When they started to be noticed, they were categorized as parasites. So banks dismissed the idea that a newly formed company without a lot of capital could change the way traditional banking is being done.
Only recently, they're starting to be nervous. Some fintech ideas, which seemed absurd at first, are now changing the way finance works.
So banks started taking into account these fintech companies. Some relationships were friendly and some were hostile:
A Competitive Mindset: Fighting Against Fintech

Some banks and financial services provider have decided to compete against fintech companies.
"We have the talent, the capital, the expertise, and the distribution channels. Why can't we do it ourselves?"
And so they've worked on modifying their existing business or setting up new subsidiaries.
The main obstacle is that banks are big ships. They have a complex structure. And it makes it challenging to develop a new product or business model.
Why Not Us? How Charles Schwab Became a Fintech Startup
Charles Schwab is the one of the leading providers of U.S. investment services.
The company started in the 70s as a scrappy new venture provided discount brokerage. It changed the way investing works. And today, Charles Schwab has more than $2,600 billion under management.
The FinTech Revolution triggered the emergence of companies such as Wealthfront, Betterment, and FutureAdvisor. All of them offer "robo-adviser" services that compete directly with Charles Schwab's bread and butter.
The people at Charles Schwab took their time to analyse what was happening. They neither dismissed the trend, nor jumped too quickly. They waited for these fintech ideas to hit product-market fit.
Once the market validated the business model, Charles Schwab simply started Schwab Intelligent Portfolio. Today, the product generates more revenue than the existing fintech startups combined.
A Passive-Aggressive Reaction: Collaborating with Fintech

Some banks have decided they cannot do this themselves.
There are several ways of coping with the revolution without taking too much risk:
They invest in fintech startups;
They acquire growing fintech ventures;
They start accelerators;
They create partnerships and open their customer database.
In many cases, it's IBM opening the door to Microsoft to be eaten alive. But sometimes it works out—like BBVA acquiring the online bank Simple.

Fintech Companies Focus More on Customers
Having interviewed many founders of fintech companies, I realised one thing:
They all relate to their customers. They embrace the power of empathy. They are aware of the common problems customers have. Being customers themselves or former employees of large banks, they have a good idea of how to make things better.
And honestly, in the finance industry, which has a focus on products, systems, and regulations, creating better customer experience is a huge competitive advantage.
Many of them had been involved for years in a broken system. This experience helped them to find promising fintech ideas.
Different Revolutions Inside the Fintech Revolution
Taking into account what doesn't work, fintech ventures started revolutionising every bit of what banks offer: loans, mortgages, credit cards, debit cards and current accounts, international money transfer, investment advisory…
These startups embrace a movement initially created by companies such as Intuit, PayPal or Mint.com. Their success is based on their ability to innovate and develop simpler and more appealing offers to customers.
Let's see what and how they are succeeding:
1. Personal finance management
2. Payment system
3. Loans and credit
4. Investment
5. Venture capital
6. B-to-B and financial information
1. Example of FinTech in Personal Finance and Current Account
Budgeting is tricky and fastidious. The revolution started years ago with Mint.com and Intuit. The mobile revolution offers new opportunities to startups. Their goal is to help individuals take control of their personal finance. They provide expert advice and assistance to manage their money.
Problems: lack of mobility, bad user experience, and complex system

FinTech in USA
LearnVest: financial planing services for individuals
Simple: online banking with automatic budgeting and savings (acquired by BBVA)
Personal Capital: an online financial advisor and personal wealth management solution
FinTech in the UK
Monzo: an online native bank account

2. Examples of FinTech in Payment System
PayPal started this revolution early, even before the Dot-com bubble. It was the first company to make payment solutions sexy. Today, fintech companies are pushing the payment industry to the next level.
Tech ventures have cut down the costs of moving money abroad and they allow more transparency.
As middlemen, banks charge fees when you pay and receive payments, especially for international payments. For example, when you want to transfer money, it is impossible to get the mid-market rate. For sure, you're going to pay expensive transaction fees.
It's actually no longer the case. Many startups have worked on solving this problem by going full-stack rather relying on middlemen.
Problems: lack of transparency, complex system, expensive, and slowness

FinTech in USA
Venmo:

a free digital wallet that lets customers make and share payments with friends

Tilt: an easy way for customers to collect money from a group
Currencycloud: a cloud-based platform that customers rely on to automate the way they send and receive money internationally
Dwolla: an online payment system and mobile payments network for businesses
Affirm: a way for consumers to pay off their purchases in easy, fixed monthly payments
Square:

secure credit card processing and point of sale solutions for merchants

Stripe: a way for both individuals and businesses to accept payments over the Internet
Braintree: mobile and web payment systems for ecommerce businesses (acquired by PayPal)
Coinbase: a bitcoin wallet and platform where merchants and consumers can transact in bitcoins
FinTech in UK
GoCardless: an easy way for companies to collect recurring payments
TransferWise: individuals transfer money abroad easily and at lower cost

Divido:

customers pay over time through installment loans with 0% interest
FinTech in France
Leetchi: a way to c

ollect money for group gifts, projects and nonprofits

3. Examples of FinTech in Loans and Credit
Fintech startups took advantage of the limited access to capital from banks—a trend that begun in 2008 because of the economic crisis.
They started to apply disintermediation to consumer credit and business credit. Most of them do a simple job. They connect buyers and sellers through peer-to-peer lending marketplaces.
Governments quickly started supporting these fintech ideas. This was a great way to cope with the lack of capital allocation from banks.
One of the best competitive advantages of these new peer-to-peer "lenders" is that they do not bear the same balance-sheet risk than traditional lenders do.
Problems: lack of access, complex system, lack of transparency, and slow

FinTech in USA
LendingClub: a peer-to-peer lending/credit marketplace
Propser: a 

person-to-person lending

platform
CommonBond: a marketplace that allows individuals to refinance their student loans
FinTech in UK
Zopa: a peer-to-peer lending platform
Funding Circle: peer-to-peer marketplace for businesses
Lendivest: a mortgage marketplace that matches individuals looking for quick, short-term mortgage funding with investors
MarketInvoice: online marketplace where big institutional investors advance capital to small businesses by acquiring their long-date invoices.
FinTech in France
Prêt d'Union: peer-to-peer marketplace for individuals
Unilend: peer-to-peer marketplace for businesses.
4. Examples of FinTech in Investment
Asset management has experienced a radical change. Individuals are reluctant to use traditional channels to invest their money. The crisis of 2008 made them lost trust in the financial system, especially the younger.
Read more about how fintech is changing asset management in this detailed article.
People start to rely less and less on traditional institutions. They lost their "monopoly". Individuals now want user-friendly platforms. They want to be more involved in the investment process and to understand what is going on.
Problems: loss of trust, complex system, lack of transparency, lack of involvement, bad user experience

FinTech in USA
WealthFront: automated investment services specialized in ETFs
SigFig: personal finance virtual manager and investment advisor
Betterment: online financial advisor
Motif Investing: online broker turning ideas and global trends into investment opportunities
Covestor:

online investment management marketplace.

Robinhood: a solution that allows individuals to trade stocks easily
FinTech in UK
Nutmeg: investment management portfolio
eToro: social trading
Cayman Atlantic: investment management company using technology to analyse real-time data enabling us to discover trends, global events and market sentiment.
FinTech in Italy
5. Example of FinTech in Venture Capital
There are two kinds of FinTech startups that compete with the venture capital industry: crowdfunding platforms and crowdfunding equity marketplaces. Both try to put aside the power of venture capital and allow individuals to invest in people and their stories.
Along these lines, there are also companies that modernise the way venture capitalists and business angels invest. AngelList is a good example that relies a particular business model—a market-network.
Fun fact: most of traditional crowdfunding platforms started as an alternative to equity investing. At the time it was very difficult to secure investments from individuals who weren't professional investors.
Problems: concentration of power, lack of transparency, and lack of access

FinTech in USA
Indiegogo: crowfunding platform
Kickstarter: crowfunding platform
FinTech in UK
Crowdcube: crowfunding in equity
Seedrs: crowfunding in equity
FinTech in France
Ulule: crowdfunding platform
Smart Angels: crowfunding in equity
Wiseed: crowdfunding in equity
HappyCapital: crowdfunding in equity
FinTech in Estonia
Funderbeam: crowdfunding in equity
Startup Includer: tool that facilitates angel investing

6. Example of FinTech in B2B Financial Services
B2B financial services have always been related to technology—often referred as "IT". Today's buzzword is "digital". But, in general, they all mean the same: process innovation.
Bloomberg and Reuters are striking examples of success. They allowed information to flow into the banking world. And everybody knows that "knowledge is power". So it worked.
New trends are shaping B2B offerings, the very hyped "big data" and "machine learning". These have the potential to change how financial institutions manage assets, risks, and information.
Problems: bad user experience, lack of optimization and performance, security and privacy, compliance, and rise of new digital risks

OpenGamma: market risk management open source software
Heckyl: financial data search engine
Kensho: financial data search engine
Kusiri: financial information provider
Fingenius: supplier of artificial intelligence solutions
CrowdFundMagic: crowdfunding platform provider
BIPB: big data & analytics consultancy
Digital Shadows: cyber threat intelligence company
ETFGI: independent research firm in exchange traded fund
SideTrade: cash-flow management
DueDil: business information and intelligence provider.
A Map of the FinTech Startups
Business Insider showed the same FinTech startups in a visual way.
It's worth having a look at the map: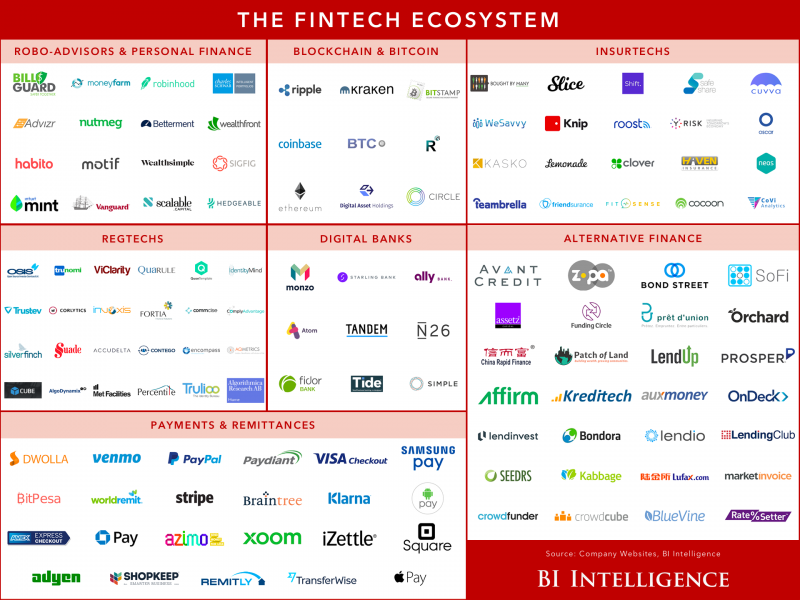 How to Take Advantage of the FinTech Revolution
This is the beginning of a massive change in the way, consumers and businesses deal with money.
Banks have to find ways to be more customer-oriented. The smarter banks will use this major shift as an excuse to improve the experience of their customers. They can rely on acquisition to accelerate the transition. But they shouldn't limit themselves to external innovation. Real innovation comes from within.
Fintech startups are in a race. They need to go faster than the banks. It's easy on paper. That said, it is difficult to change habits that consumers have developed over time. A better value proposition is often not enough. Their challenges: trust and go-to-market strategy.
Business angels and venture capital investors shouldn't fall into the hype trap. Indeed, the finance world is changing. But this industry has always had parasites trying to make money in one of the most profitable industry.
Consumers should balance the costs and benefits of switching to new products. In many cases, it is still unclear whether many of the fintech startups will survive. Be smart and worry.
Do you have experience in any FinTech? Share your experience. Give us feedback. If you want to complete the list of fintech startups.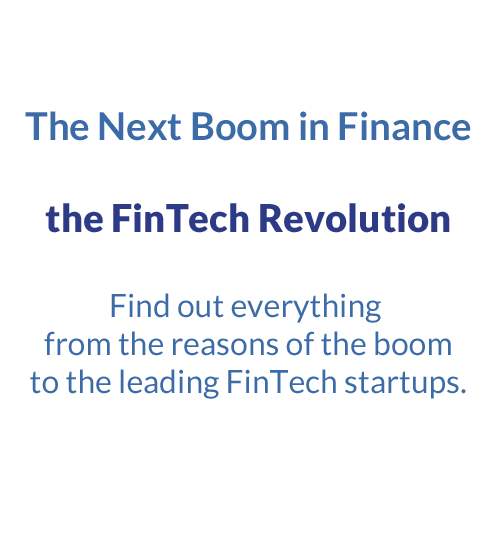 LIKE WHAT YOU'RE READING? GO VIP.
[mc4wp_form]